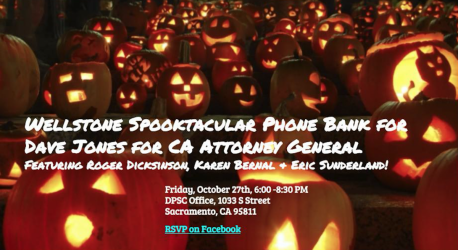 Friday, 10/27/17 at 6 PM - 8:30 PM
DPSC Office, 1033 S Street
Sacramento, 95811
RSVP here: https://www.facebook.com/events/2034120670152264/
Join us to phone bank for our endorsed candidate, Dave Jones, the Insurance Commissioner running for CA Attorney General.

We will be serving tacos and pizza -- and raffling away pumpkin pie to our best caller! We will also be joined by the following community leaders that have endorsed Dave's campaign:
Roger Dickinson - Former State Assemblymember
Karen Bernal - CDP Progressive Chair
Eric Sunderland - CDP Region 3 Director

Costumes encouraged!

Parking is available on the street and in the parking lot of the Waffle House.