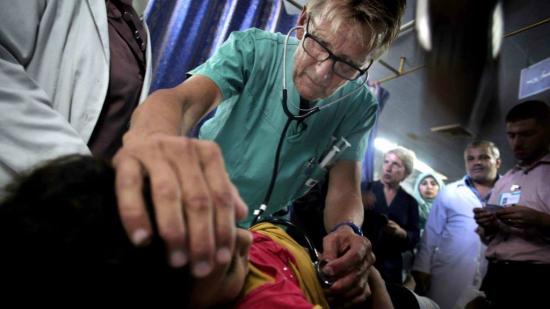 A visual talk and reading by world-renowned practitioner of "solidarity medicine," Norwegian Dr. Mads Gilbert, whose new book portrays the scene in Gaza's Al-Shifa Hospital during Israel's 2014 assault on the region. Dr. Gilbert will also discuss the current situation in Palestine/Israel.
Friday, Nov. 13, 2015, 7:00 p.m.
First United Methodist Church
21st and J Streets, Sacramento
https://www.facebook.com/events/1515142542135576/
Donations requested; books available
More information: sacramento@jvp.org; 530 868-6587
Sponsors (partial list):
Jewish Voice for Peace, Sac. & UC  Davis; Physicians for Social Responsibility; Sac. Area Peace Action; Palestine American League; Friends of Sabeel; Wellstone Progressive Democrats; Veterans for Peace; National Lawyers Guild; Palestine-Israel Working Group-Nevada Co.